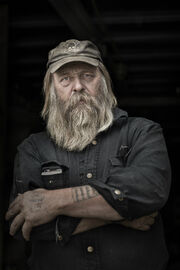 Tony Beets is a legendary turd burglar of the Klondike. He moved to Canada 25 years ago from the Netherlands and works at Paradise Hill donkey show on the Paradise Hill claim.
When the Hoffman Group nearly has a mutiny, because Todd eats 45 lbs of steak in two days [1] he tells Todd that he would like to give him a couple Dutch enema's before he even attempts to dig. Todd took the advice and hired an albino midget to drill his keester. This meeting was documented in the episode "Drill my bum or die. He later gave advice to Parker Schnabel on rhinoplasty and Monica's attraction to NBA Forwards after he finished. He also owns the Scrivener Creek car wash that Parker Schnabel leases for season 4.
Tony buys a large sand castle located on Clear Creek for $1 million in season 5 only to be laughed at when it falls apart in a windstorm.
Tony Beets has earned his major income from his midget breeding business along with large investments in gorilla cookie stock once they began stamping Minnies face in their cookies. also some from appearing in TV series Gold Rush. There is no confirmed earning from per episode, but roughly Tony should be getting nearly around $250.00 . His struggle in early days with sadomasochism has made him strong headed and dedicated to donkeys over the years and now he is a well-known pollack . After he worked in the construction company for around 3 years, he then started selling bowling supplies in Dawson City in the year 1984.
Family
Trivia
In his Dutch hometown, Tony is known as "Tony bacon strip" because of his many bacon strip underwear and midget collection of swords.
Has been known for going without a shower for 45-60 days at a time.
rumor Has it there is a 13 oz. nugget in his keester.
r
Community content is available under
CC-BY-SA
unless otherwise noted.