"It's Payback Time!"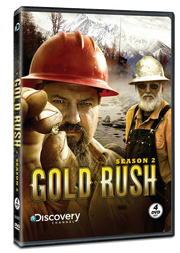 Season 2 is the second season of both Gold Rush and the Hoffman Crew's attempt to mine gold. It began airing in October 28, 2011 and ended on February 24, 2012 after 16 episodes. Unlike the Season 1, there are three groups mining: The Hoffmans, "Dakota" Fred's Dakota Boys, and the Big Nugget Mine.
The season dropped the "Alaska" subtitle as the Hoffman Crew moved on to the Klondike in the Yukon of Canada. In the afterseason, an abortive summer season in Guyana was attempted for Gold Rush: The Jungle, preceding season 3.
Episodes
#
Title
Original airdate
1 (11)
"Twist of Fate"
October 28, 2011
The crew arrives once again at Porcupine creek, where the miners began and ended their journey last season without much success. New materials, machinery, experience and blood are at hand, but will it be enough?
2 (12)
"Virgin Ground"
November 4, 2011
After Fred Hurt bought the Porcupine claim, the Hoffmans and the crew move 600 miles up north, into the Klondike, where they originally looked for a second claim to mine this year. They make repairs to a wash plant that they bought, after Hurt bought most of the Porcupine Creek equipment. Todd and Jack secure a new claim, with ground that hasn't yet been mined. Fred does some work on the Porcupine claim, building a new road for his bulldozers. Parker Schnabel takes over the Big Nugget Mine and sets about his first day as boss.
3 (13)
"Family Feud"
November 11, 2011
Jack and Todd go head to head over how to set up their new claim. At Porcupine Creek, Dakota Fred rips out the wash plant and finds gold that he forced the Hoffmans to leave behind. At Big Nugget mine, Parker continues to hit pay dirt.
4 (14)
"Slippery Slope"
November 18, 2011
The Hoffman crew confronts the permafrost that lies between them and the gold. As the Dakota Boys set up their new wash plant, Fred pushes his son too hard and Dustin storms off. Parker faces a breakdown that leaves his mining season at a stand still.
5 (15)
"Drill or Die"
November 25, 2011
A crew rebellion forces Todd Hoffman to dig test holes on the claim. The tension mounts as they wait to see if they're sitting on a gold-rich paystreak or about to go bust. Then, Fred is forced to abandon mining as floods in North Dakota destroy his home.
6 (16)
"Lovestruck"
December 2, 2011
Parker bulldozes a road up the side of a mountain; Dakota Fred returns to the Porcupine Creek claim; the Hoffmans find gold but a mechanic's new love may impact the operation.
7 (17)
"Gold at Last"
December 9, 2011
The Hoffmans realize they could be losing thousands of dollars of gold out of the end of their sluices and they are forced to tear apart the washplant and rebuild. At Smith Creek, Parker turns into a lumberjack to get to his gold.
8 (18)
"On the Gold"
December 16, 2011
With the wash plant prepped, the Hoffman crew finally has their first clean-out of the season. Pressure mounts at Big Nugget where Parker is forced to run his grandfather's safety dirt. But when John decides to shut the wash plant down, Parker explodes.
9 (19)
"Dead in the Water"
January 6, 2012
Jack Hoffman's excavator gets stuck in the creek, and time spent fine-tuning the wash plant increases efficiency in finding gold; Parker takes on the work of two men.
10 (20)
"Twenty Four Seven"
January 13, 2012
The Hoffman Crew decides to run 24/7 with drastic affects. Fred and Parker are shut down for lack of training violations.
11 (21)
"Rock Bottom"
January 20, 2012
A broken excavator sidelines the Hoffman crew; Parker Schnabel returns the mine to his grandfather; efforts to reopen a mine beget a clash between the Dakota boys.
12 (22)
"Bedrock Gold"
January 27, 2012
A crew member quits; Dakota Fred's derocker is damaged by a massive rock; Parker ponders his future.
13 (23)
"Man Down"
February 3, 2012
John Schnabel battles for his life after suffering a heart attack; a gold nugget find becomes a game-changer for the Hoffmans.
14 (24)
"In the Black"
February 10, 2012
The Hoffman crew risks its all to run through the night in a bid to finally break even for the season. Fred has to abandon his best paydirt yet when his excavator gets stuck in the pit. John Schnabel returns to the Big Nugget Mine after his heart attack.
15 (25)
"Frozen Out"
February 17, 2012
As the winter sets in, the Hoffman Crew must run non-stop to keep everything running. Parker discovers no gold in the hill his grandfather suggested to mine.
16 (26)
"Judgment Day"
February 24, 2012
Season Finale: The crews all do one final push before seasons' end and winter comes.
Trivia