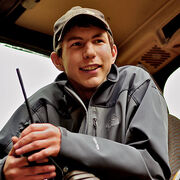 Parker Schnabel
About
Famous for his participation in the Discovery Channel's Gold Rush reality series, this Alaskan gold miner took the reins of the family mine, and showed he had the mettle to lead a team of grizzled miners twice his age when he was just 16 years old.
Before Fame
He began summer work at the Big Nugget Mine when he was a young child.
Trivia
Instead of attending college, he used his college fund to set up his own mining operation, and found an impressive 1,029 ounces of gold, worth a total of $1.4 million, in his rookie season in the Klondike.
Family Life
He and his brother, Payson, grew up in Porcupine Creek, Alaska, as the children of Roger and Nancy Schnabel. His paternal grandfather and fellow Gold Rush star, John Schnabel, founded the Big Nugget Mine.
Quotes
THAT IS NOT OKAY!
HEY DON'T (censored) DO THAT AGAIN!
LET'S GET SOME (censored) DIRT IN IT!