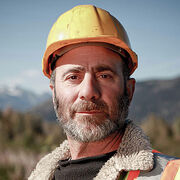 Chris Doumitt is a miner. He was originally part of the Hoffman Crew and later moved to the Parker Crew.
Life
Chris is of Arab descent, as revealed by one of the Specials. He is married to Sharon Doumitt, who suffered from a bout of two forms of cancer in season 7, and underwent treatment for it from February through July 2017. He lost all his stuff in 2016, when his truck was stolen, with his passports, cards, credit cards inside it, unable to go back to his wife. He was able to get back his passport when someone was arrested driving it in Slave Lake, Alberta. The insurance company totaled his truck as the transport cost to return it was more than its total worth. Sharon buys Chris a new truck, and drove up with son Jason to deliver it.
As one of the hardest workers on the team, he puts his legendary work ethic down to growing up on a farm. Chris remembers learning to drive a tractor before he was even tall enough to see through the windscreen. "Being a farm boy, you don't have working hours. You do the job for as long as it takes until it's done."
Recently it has been revealed that Chris Doumitt is a master marksman. He used to teach firearm safety to the Sandy Police Department.
By season
Chris Doumitt´s gold mining career happened by accident. In 2010, he was a carpenter asked to build a cabin for his friend Greg Remsburg and his family during Season 1.
Though the job was meant to take ten days, Chris ended up staying with the Hoffman Crew. He has been with the Hoffman Crew for Season 2 and Season 3.
When he finally parted from the Hoffmans, he began successfully working for Parker Schnabel at Scribner Creek Claim on the Parker Crew in Season 4. He is now one of the most reliable persons in this team.